Congratulations! You have found the best electric motor system on the planet that is designed to fit the bike you already have (or the one you dream about).

But first… Why ride an electric bike?
Stop fighting traffic, ride an e-bike and grin instead.  Wouldn't a leisurely ride to work with "no more hills" feel a lot better than stressing in traffic?  If you are driving during rush hour you will probably get there faster too, refreshed and rejuvenated, not stressed and agitated.
An ebike makes exercising fun.  Again and again our customers tell us that their EcoSpeed system has turned their bike riding from being an occasional chore to just being fun.  Knowing you have the motor to back you up makes the decision to hop on your bike easy, no matter what your energy level.  In fact, two-thirds of our customers ride more recreationally with their EcoSpeed systems than they did on their bikes alone, before the EcoSpeed was added.  Many have lost extra weight just because they are riding so much!
Ride more than you ever thought possible.  About half of EcoSpeed customers now ride between 25-100 miles every week based on our recent customer survey.
Save money with "low car" or no car. Your EcoSpeed electric bike pays for itself in 10 months of the average U.S. household's car expenses.  After paying off the e-bike with that savings you continue to save about $350/month if you use your car half as much as before and $600/month if you get rid of a car altogether.  Unlike many "toy" e-bikes, an EcoSpeed system is designed to last years and years and be easily maintainable.  Refer to the Real Cost of Car Ownership from Bikesatwork.com
…and Why EcoSpeed in particular?
The EcoSpeed Mid-Drive motor system stays light weight yet powerful by leveraging your gears, just like a transmission in a car.  Our motor system spins the chainrings so the motor can leverage all your bike's gears.   An EcoSpeed system can be programmed to fit local regulations from 200 watts up to 1,300 watts under full warranty.  The EcoSpeed Mid-Drive (a type of chain-drive) system is about 21 pounds with our standard lithium tri-metal battery.  This is about half the weight of an equivalent performing hub motor system (on most ebikes) so it still feels like you are riding a bike rather than a heavy electric motorcycle.  This means you can still carry your ebike upstairs and lift it onto buses or bike racks.
Double or triple your riding range.  Our standard 48 volt, 13 amp-hour lithium tri-metal battery provides about 35 miles of assist and even more if used only to accelerate or climb hills.  This amazing battery is an extremely light-weight, energy dense, rechargeable battery that can be charged over 1000 times.  That's ebike commuting 25-35 miles every weekday for 4 years on a single battery.
Haul kids and cargo without strain.  The same EcoSpeed Mid-Drive that our everyday customers buy took a father and son team on a  tandem across the country in 2011 http://www.popsci.com/category/tags/eco-tour, and co-powers commercial delivery cargo trikes and pedicabs.
 Made in Portland, Oregon.  When our customers purchase an EcoSpeed system they are supporting a complete network of local manufacturers.  We use the highest quality materials and components that we can find, sourcing locally first.  We design these systems, we build them, we sell them, we service them, and at the end of the day, we ride 'em home.
Climb hills with ease and speed.  With an EcoSpeed assist, you can cruise up very steep hills at about 12-15 mph and maintain 20+mph on rolling hills, based on our testing.   You can still pedal hard if you want, you just go twice as fast as you did before.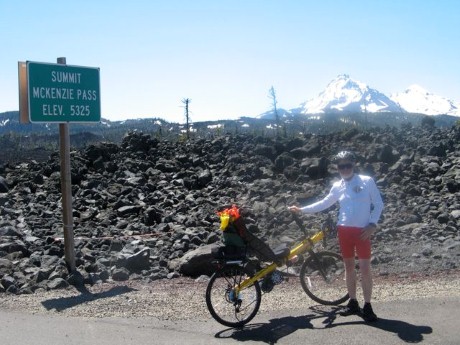 Want to ride with EcoSpeed? Here are some ways to get started.
An EcoSpeed lets you turn your bike, trike, tandem, etc. into a pedal-electric hybrid vehicle that gets about 500 miles on a single gallon  dollar of electricity!
Let us electrify your ride!