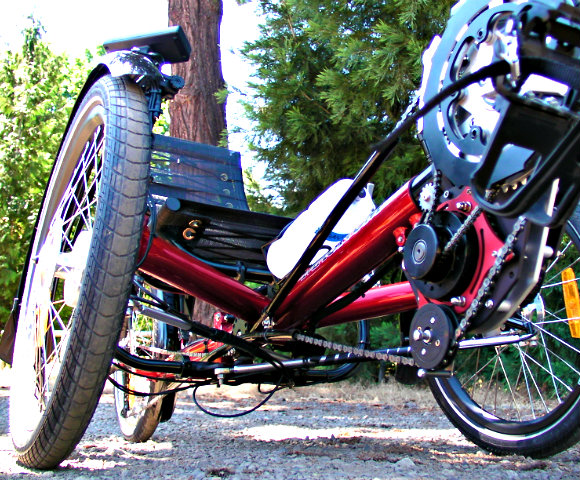 Imagine taking your tadpole trike to the top of that big hill with ease and a grin?
EcoSpeed is the leading manufacturer of electric assist systems specifically for tadpole trikes.   Our boom mounted mid-drive system is one of our top selling systems.
Our boom mounted mid-drive system leverages all the gears in the front and back of your trike so you can climb steep steep or cruise at top speeds with ease.
Our systems have been installed on the best tadpole trike brands in the world.
We are determined to maintain the highest quality parts and service so you can have the confidence that your electric assist is powerful, and dependable for thousands of miles.
For details and pricing on our boom mounted systems for tadpole trikes check out our Boom Mount triple page for trikes with front derailleurs or Boom Mount single for trikes with just a single chainring in the front.
Our customers have enjoyed touring with our system.  They have toured down the Pacific Coast and across the country.  One of our customers, Sylvia Halpern shares her story of touring with a custom EcoSpeed system below.  See her post about the benefits and drawbacks of touring with electric assist on her blog.
We worked directly with KMX Karts and have created a system that fits perfectly behind the seat of a KMX trike.  This system also has the bonus feature of working with a Schlumpf drive.  These systems and the trikes and quads they fit can be purchased directly from Utah Trikes, one of our dealers.